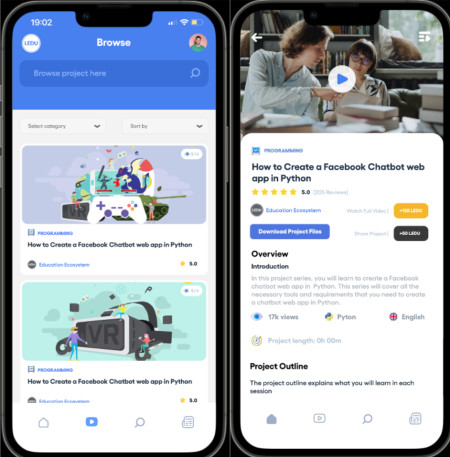 Education Ecosystem is thrilled to announce the launch of its Android app. Building on the success of the Education Ecosystem 3.0 web app, which was introduced in February, this Android app aims to further enhance learning by providing convenient access to a diverse array of project tutorials right at your fingertips.
Introducing the Education Ecosystem Android App
The Education Ecosystem android app represents our commitment to accessible and interactive education. With this app, learners worldwide will have the ability to access an extensive library of project tutorials anytime, anywhere, with just a few taps on their mobile devices. Here are some of the key features and benefits:
Key Features and Benefits
1. Enhanced Learning Flexibility: The Education Ecosystem Android app provides unparalleled convenience, allowing learners to fit education into their busy schedules and learn at their own pace. Whether it's during a bustling commute, a coffee break, or in the comfort of their homes, learners can now immerse themselves in a world of learning with a single tap.
2. DApps Rewards Dashboard: Users can easily track their earned LEDU rewards for participating in activities, encouraging active engagement. The rewards dashboard incentivizes learners to complete projects, tutorials, and interactive tasks on the platform.
3. Social Sharing: Viewers can effortlessly share projects and videos, promoting collaboration and knowledge exchange within the community. Learners can spread their insights and discoveries, fostering a culture of learning and exploration.
4. Sleek and Intuitive Design: The app boasts a user-friendly interface designed to provide an engaging and immersive learning experience. With a modern and intuitive design, learners can navigate through content effortlessly.
5. Free to Download: One of the most enticing aspects of the Education Ecosystem Android app is that it is entirely free to download and use. This commitment to accessible education ensures that learners from all walks of life can access the platform and embark on their journey to acquiring in-demand skills.
The release of the Education Ecosystem 3.0 Android app marks a significant milestone in our goal to provide accessible and interactive education. With a user-friendly design, DApps rewards system, and the power to learn on the go, this app is set to transform the way learners acquire new skills.
Don't wait any longer. Download the Education Ecosystem Android app here, and begin your journey of exploration and discovery.